3xmann-filter 718/2-3xliqui Moly / 3x Cera Tec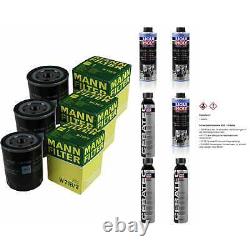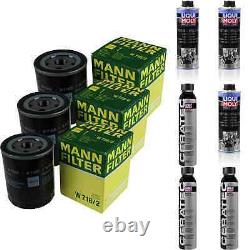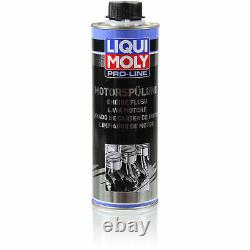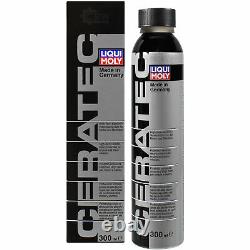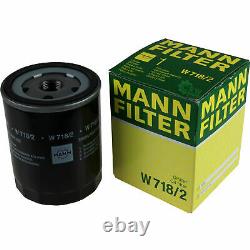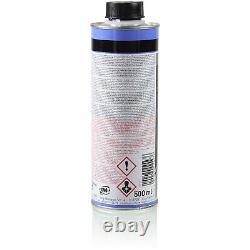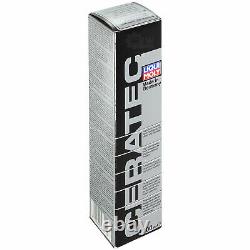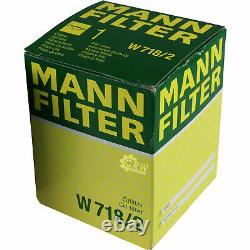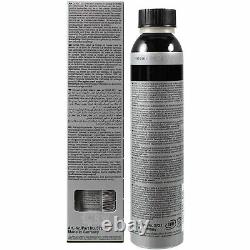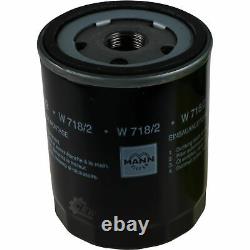 3xmann-filter -lfilter-w 718/2-3xliqui moly / 3x cera tec. This product sheet has been automatically translated. If you have any questions, please contact us. 3x oil filters of origin mann.
3x 500 ml of original pro-line 2427 pro-line engine rinse. 3x 300ml bottle liqui moly 3721 cera tec original aluminum. Item number of the recommended special tool. Opening pressure of the bypass valve. Engine liqui moly pro-line flush 2427.
Yellow, braun / yellow, brown. High economic efficiency - gentle cleans - is suitable for diesel particulate filters - turbo and catalytic converter tested - simple application - no environmental pollution - neutral filtering materials - quick cleaning. Highly effective detergent and dispersant additives in relation to the carrier liquid have been tested in numerous laboratory and field tests to dissolve sludge and varnish trainers. Oil-soluble residues and insoluble in oil of all kinds are suspended and removed from the oil circuit when the oil changes. The engine, free of deposits and dirt, and fresh oil not contaminated by contaminated sites can thus develop its full potential. Application area for cleaning and rinsing oil circuits in gasoline and diesel engines. Applying a 500 ml can is enough for up to 5 litres of oil.
Add pro-line engine flush to motor oil at operating temperature before changing the oil. After adding the engine, depending on the level of pollution, about 10 to 15 minutes.
Then change the oil and filter. The rinsing of the pro-line engine is compatible with commercially available motor oils. Note: not suitable for motorcycles with wet clutches!
In the context of the sale of combustion engine oil or transmission oil and oil filters, we are required, as a dealer, to provide information on relevant regulations and obligations in accordance with the regulations on used oils. We would like to point out that used oil or oil filters and oil-containing waste that occur regularly during oil drains are hazardous products that must be disposed of in an environmentally friendly manner.
You can return used oil in the same quantity as the fresh oil you bought us, as well as oil filters and oily waste that regularly occur during oil emptying, free of charge at our point of sale during business hours, or send it to us for free disposal at your expense in an approved package for transporting dangerous goods. Used oil must be marked as a dangerous commodity during transport. It cannot be shipped by parcel service without special packaging. Each cartridge must first be welded into an extra-thick sheet box insert. Shipping can only take place in a special box for dangerous goods in accordance with iata regulations. The packaging must also contain an approved absorbent material. For more accurate packing instructions and shipping prices, please contact your parcel service.
The cost of packing and shipping is the responsibility of the buyer. Alternatively, the return of used oil is in principle also possible at petrol stations or recycling points, for example recycling centres or waste treatment. Your workshop can also remove used oil when you change the oil.
63 c din iso 2592. Liqui moly cera tec 300ml.
Reduces friction losses - suitable for diesel particulate filters - can be mixed with commercially available motor oils - increases smoothness of operation - maximum thermal stability - excellent high and low temperature behavior - tested by the catalytic converter - extremely pressure resistant - filter compatible with ultra -fine filters - no settling - long life of the engine - chemically inert - reduces fuel consumption. Solid micro-ceramic lubricant suspension made from hexagonal boron niture (bn) in mineral oil. The graphite-type laminar structure reduces friction and wear and prevents direct metal/metal contact. Bn micro ceramic / bn micro ceramic. Original spare room number (oe).
116440603000; 1.16441th - 11th. 71754231; 46805831; 4434895; 60507080; 71736160; 4449040; 60810474; These figures are only for comparison purposes. Can be fatal if swallowed and penetrated the airways. Repeated contact can result in rough or cracked skin.
May cause an allergic skin reaction. If medical advice is required, prepare the container or label. Keep out of the reach of children. Wear protective gloves/protective clothing/eye/face protection equipment. If swallowed: immediately call a poison control center / a doctor / /.
Don't make you vomit. In case of irritation or rash: consult a doctor.
The original coin numbers oe no. Are used as reference numbers for comparison purposes and may differ. All logos, brand names and trademarks used are the property of their owners.
All products are quality checked. Usually everything is in stock - so no waiting. 1 month's right of withdrawal. 24-month warranty on new products.
12 months guarantee on second-hand goods. Our service does not stop at selling goods for you. Qrparts24 description ls 7 outer diameter 76 info 2 thread size 3 / 4-16 unf the size 100 millimeters interior diameter 1 62 mm inner diameter 2 71 millimeter 1.5 bar svhc manufacturer filter filter group of oil filter products 76 millimeter 71 color container type can liqui moly content 50 quality description the basic description of odor binding characteristic breaking point 63 c din iso 2592 orange color container type bottle liqui moly content 300 quality the basic description of binding smell characteristic alfa romeo: citro: 1109 w7 ean: 4011558735906 decree: ford: 5010 963 non. W 718/2 danger does not make you vomit.
Gelb, braun / yellow, brown, orange. Viskositet bei 20oc 250 mpas din 51398.
4449040, 46805831, 60507080, 60810474, 71736160, 71754231. 7773854; ford: 5010 963; Nr. Citroen: 1109 w7; alfa romeo: 1.16441e-11; fiat: 4434895. Ean: 4011558735906; lieferumfang: original mann's lfilter. Aussendurchmesser: 76; 'ffnungsdruck umgehungsventil [bar]: 1.5.
Bindemittelbasis: bn mikrokeramik / bn micro ceramic. Geruch: charakteristisch / characteristic; mpn: 3721. Geruch: charakteristisch / characteristic; mpn: 2427. Liqui moly cera tec 300ml: ean: 4100420037214. Liqui moly pro-line motorsp-lung 2427: ean: 4100420024276.
Manufakturer: mann-hummel; mpn: w 718/2. Technische hinweise 2: mit einem recklaufsperrventil; hehe: 100.
The item \"3xmann-filter -lfilter-w 718/2-3xliqui moly / 3x cera tec\" has been on sale since Friday, March 5, 2021. It is in the category \"auto, motorcycle - parts, accessories-auto parts -revision kits\". The seller is \"qrparts24\" and is located in leipzig. This item can be shipped to the following countries: America, Europe, Asia, Australia.
reference number oe/oem: liqui moly pro-line engine rinse 2427: ean: 4100420024276
product group: oil filter
specificity: 4100420010194 1019
reference number oe1: citro: 1109 w7; alfa romeo: 1,16441e-11; fiat: 4434895,
-application domain: maintenance - pflege
colour: yellow, brown/yellow, brown, orange
viscosity: viscosity with 20c -250mpas din 51398
ean: 4061965462414
surface structure: nine
product type: additive, filter
manufacturer's coin number: 2427, 3721, w 718/2
mark: liqui moly, mann-filter
measure: l, 100 ml
reference number oe: 4449040, 46805831, 60507080, 60810474, 71736160, 71754231,
manufacturer part number: 12443829
reference number oe2: 7773854; ford: 5010 963; no: w 718/2; ean: 4011558735906;
unit: 300 ml
type: liqui moly
fabricant: liqui moly, mann-filter